Hachigamine Park is a super fun park really close to Iwakuni base which is easy to drive to !
It is many base peoples go-to place to take the kids which is close to base and has a lot of fun things to do for kids and adults alike!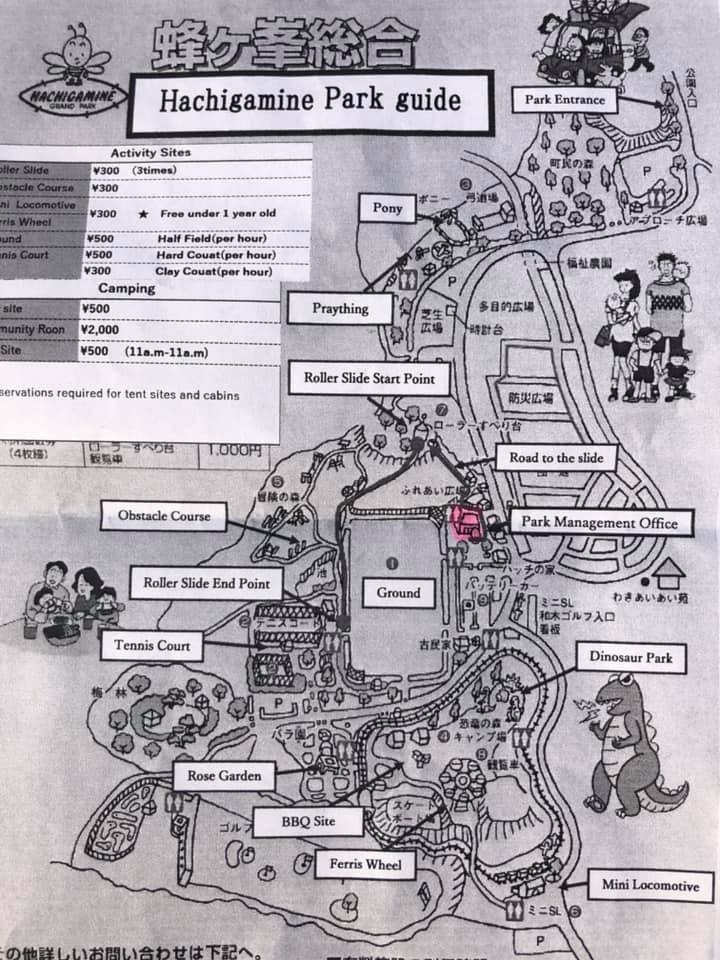 The roller slide here is one of the longest roller slides in Japan! The view from the top is absolutely amazing as it is on top of a mountain with an ocean view. Go during cherry blossom "sakura" season and there a bunch of cherry blossom trees on each side of the beginning of the roller slides and it is absolutely an amazing experience!
Besides roller slides, they have bunnies at the bottom of the roller slide you can see and feed and sometimes pet. They have multiple playgrounds, ride on coin operated cars with different themes for each car, a choo-choo train ride, a dinosaur statue park (some of the dinosaurs you can even press a button and they will roar for you!), rose garden festival in May, many seasonal events, there is an obstacle course, a ferris wheel you can ride and much much more!
Some things such as the ferris wheel and train rides are only available on the weekends and Japanese holidays.
The visitors center is where you pay for your admission tickets and the sign is in English as to the pricing and activities you can do. Included in your roller slide rental are some blue pads you can use so your hind parts aren't so sore from the rollers :)) For the price of one roller slide ticket each person gets 3 slides down the roller slide.
They also have a snack shop with ice cream, pizza and cafe style food as well as vending machines with ice cream and drinks.
The park is spread out into 3 different locations with parking at each location.
The first park you come to has a horse you can ride on on Sundays in the afternoon we were told. It also has a red choo-choo train which does not move as well as static airplane display and playground.
The second park you come to which has its own parking has the bunnies, roller slides, ride on coin operated cars and the obstacle course and soccer field.
The third park you have to bear to the left when you see the big Hachigamine bee sign and drive up the mountain and park at its own lot. There you will find the actual choo-choo train ride you can ride on, as well as the ferris wheel and dinosaur playground and statues.
The rose garden is located near the main ticket counter near where the roller slides and large field is. There is also an amazing traditional small Japanese house with tatami mats there too.
The roller slides has a elevator like ride you can ride to get to the top of the mountain or you can opt to climb the stairs.
"Hachi" means bee in Japanese, hence the logo of the park having a picture of a bee on it.
Have a blast!!! I know we sure have every time we have gone!